1st: Get your artwork approved/verified
We advise everyone to use our templates that are provided on our website: stickers and apparel.
If you do not want to use our templates we advise that you send in your artwork to get verified first so we can make sure it's useable. Just make sure your artwork is sent in at final print size (300 DPI). If you have a font in mind or need help with chosing a font, check out this site: DAFONT
Let us know the name of the font, the background color, text color, and the info you want on the sticker. We can do that as well for the tshirts if you want something simple as far as text.
STICKER TEMPLATES:
The vinyl stickers are weather, scratch and sun Proof / 1 to 4 spot colors screen printed with high gloss U.V. Ink
Suited for outdoor use 3 to 5 years with no fading
APPAREL TEMPLATES:
NOTE: If you have a print location that is not our standard print location, please include a low resolution mock up to see if we are able to print your design. EXAMPLE: lower right side print underneath arm, over zipper areas, etc..
If your file is too large we suggest using this service: YouSendIt, make sure you sign up for the "LITE" account which is FREE!!!!, and send the request to sales@contagiousgraphics.com. We advise sending in your artwork to get verified first so we can make sure everything is good to go with your design.
Please review our "Sending Artwork" page. Most problems/questions can be answered here.
UPLOAD ARTWORK FOR APPROVAL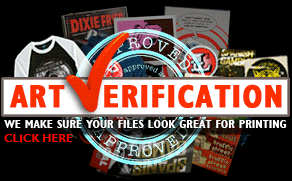 ---
2nd: Use our form(s) to request a quote/order
To help us serve you better, we prefer that you use our handy Quote/Order Forms for the items you wish to order. We will email you back to work out the details and/or confirm your order with further instructions to finalize the process in a timely and professional manner. We will reply within the business day and/or the next business day depending on when your request was sent to us.
PACKAGE DEALS: If you wish to do a package deal please use the "Additional Comments or Questions"and let us know the quantity / size sticker(s) / ink colors so we can give you a Package Deal quote.
VINYL STICKER QUOTE/ORDER FORM LINKS:
SCREEN PRINTED POSTER QUOTE/ORDER FORM LINKS:
APPAREL QUOTE/ORDER FORM LINKS:
(if you wish to order different apparel items using the same design or different designs with other quantities please put the quantity breakdown in the "Additional Comments and Questions" on the form)
---
3rd: Send payment to get your order underway
We accept Visa ,Mastercard, Discover, Money Orders and PayPal payments.
American Express is filtered through Paypal which you can enter in Visa, Mastercard & Discover as well.
*No Personal Checks*!!! Personal checks will be returned and your order will not be processed. *Important* Remember Personal checks are *NOT* accepted! *Important*.
Please make Money Orders out to Contagious Graphics. Be sure to keep the money order receipt!
Paypal payments can be sent to sales@contagiousgraphics.com through the Paypal site.
For credit card ordering via postal mail the preferred method is via certified U.S. mail, UPS, or Fedex, however First Class U.S. Mail is fine.

***Please Do Not Email Credit Card Payment Info!!!*** Email is not secure!!

Required info needed for Credit Card payments:
Name as it appears on credit card.
Credit card number
Expiration date
Billing address of the credit card holder (where the credit card statement mailed to), including your zip code.
You can phone in your credit card information. Our phone number is 704.529.5600, and our working hours are 9:30 AM to 5:30 PM Eastern Standard Time, Monday through Friday. When calling please ask for your sales person (if you are already worked out the details of your order with someone) and have your credit card info and band/company name ready. We will take care of the rest!
Thanks for the order!
CONTAGIOUS GRAPHICS CREW
---
EXAMPLE SHIRTS, STICKERS, ETC. DISPLAYED ON THIS WEB SITE ARE NOT FOR SALE!